"With student input from performing arts, music, hair & media make-up and arts, Snow White is our biggest production yet. Our students have come together to produce a truly spectacular show which I am excited to share with you this December. You will be awestruck by the pantomime."

Teresa McBride , SRC Pantomime Director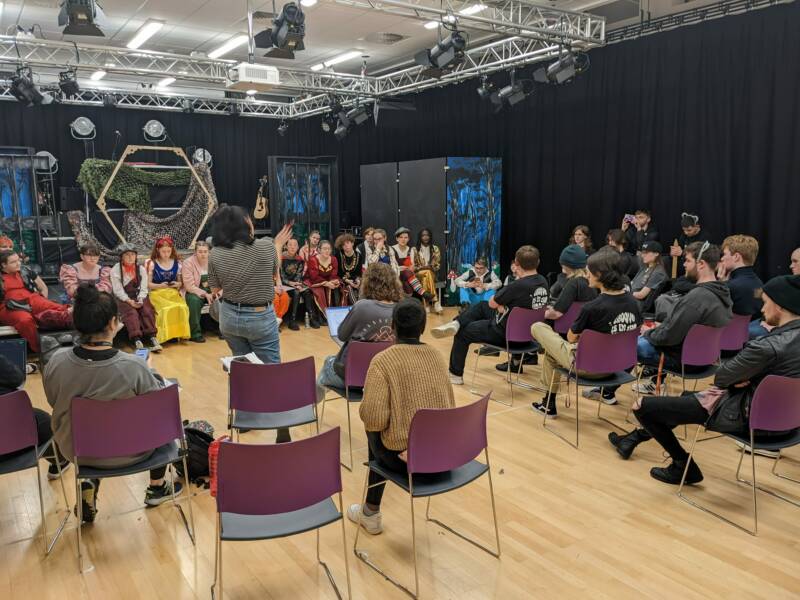 Southern Regional College's annual pantomime is set to take centre stage in the College's Armagh campus this December, with students across disciplines currently in the final stages of rehearsal.
The classic fairy tale of Snow White has been given a modern twist, as an unpredictable series of events occurs to Snow White whilst lost in the forest with her friends, the seven dwarfs.
So, what can the audience expect? There are still the widely anticipated chants of "Mirror mirror on the wall, who is the fairest of them all", the poisoned apple and Snow White's evil stepmother, the Queen, but as for the rest, well the audience will have to wait to find out!
The panto is a huge collaboration between students from a range of subjects across the College. Students on the Level 3 Extended Diploma Performing and Production Arts take the lead on stage, with Level 3 Extended Diploma Music Performance & Production producing and performing the music, sound, lighting and more! Level 2 Hair & Media make-up students have put their creative touches to hair and make-up and art students have produced the fantastic props and imagery!
Students are performing under the expert oversight of SRC staff Teresa McBride (Director), Gilda Turner (Choreography), Amy Carson (Costume and Light), Matt Duke (Musical Director) and Paddy Craig (Audio Production).

Daytime performances of the pantomime have been snapped up by local schools, however tickets for evening performances at Armagh campus are still available to purchase, visit Eventbrite www.src.ac.uk/events/panto-snow-white-2022
The YouTube premiere of the panto will be available from 15th December. To sign up for the premiere, submit the online form at www.src.ac.uk/events/panto-snow-white-youtube-premiere
Performing and Production Arts student, Mary-Kate Moore, said: "The pantomime is very unpredictable as there is a twist to it. We can't wait to put on this performance, especially for all the primary school children. There is an amazing buzz within the cast and we cannot wait to perform."