Southern Regional College (SRC) was delighted to host a recent business networking event "Get the Skills to Live Local, Go Global." In partnership with Newry Chamber of Commerce and Trade, the event explored the skills challenges in the greater Newry area, and how businesses can become equipped to overcome these challenges by working in partnership with the College and other stakeholders.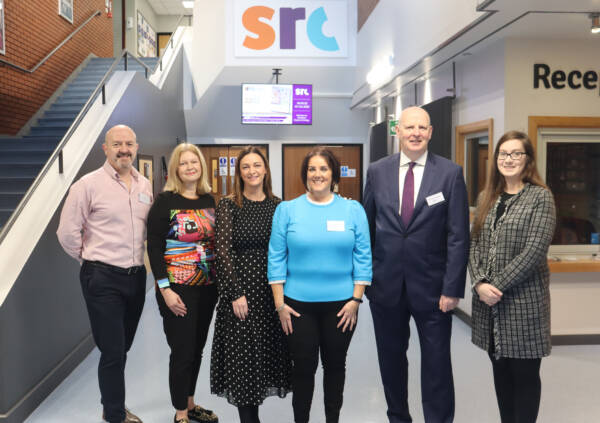 (L-R): Raymond Sloan (Director Client Services, SRC); Lisa Cartmill (Marketing & Communications Manager, Re-Gen Waste Ltd); Tracy Rice (Head of Business Engagement, SRC); Edwina Flynn (Vice-President, Newry Chamber of Commerce & Trade); Brian Doran (Principal & CEO, SRC); Jessica Gray (Marketing, Newry Chamber of Commerce & Trade).
The breakfast event was opened by Edwina Flynn, Vice President of the Board of Newry Chamber of Commerce & Trade, who outlined the Chamber's commitment to help deliver the local skills agenda.
Brian Doran, Principal and Chief Executive Officer of SRC, shared how the College was equipped to address the skills challenges through investment in new campus builds and refurbishments, plus ongoing capital investment in industry-standard equipment, technology, and software. Brian discussed how the College is committed to staff development and key industry engagement to inform meaningful curriculum development.
He went on to say that SRC is about "providing opportunities" and central to this is working in partnership with young people, schools and businesses. Brian highlighted that through training and improved skill sets, there is the ability to create, promote and sustain local job opportunities.
Lisa Cartmill from local business, Re-Gen, shared with the audience how the company attracts and retains talent and is committed to ongoing staff upskilling. One of the biggest challenges facing Re-Gen is a labour shortage. The company has recently recruited 7 Apprentices and Higher-Level Apprentices (HLAs) who will work within the business four days a week and attend SRC for training on the fifth day in their respective apprenticeship area. Re-Gen has found that the apprenticeship model works well for the business as apprentices are building up their skill set alongside their education.
A thought that echoed throughout the morning was that "people are our biggest asset." Businesses need people with drive and enthusiasm who will deliver on their vision and plans for growth. A strong business and education partnership is central to this.
For enquires on skills support initiatives for your business and other funded training and/or support with product / service innovation, contact SRC's Business Support and Innovation team at betterbusiness@src.ac.uk or phone our offices on (028) 3839 7778 / (028) 3025 9664.